The Tay Nguyen (Central Highlands) provinces should focus on improving the lives of their ethnic minority communities as a crucial step to reinvigorating the faltering tourism sector in the region, experts say.
Thriving ethnic minority communities are essential to preserving and developing the region's unique cultural diversity, they added.Other challenges that need to be tackled urgently to revive tourism in the region include extensive deforestation, climate change impacts and the loss of intangible cultural treasures.
Despite boasting great natural beauty and cultural diversity, tourism growth in the region only grew by 12 per cent annually in the 2001-10 period. The number of tourists to the region has not increased significantly during the past 10 years, and has even dropped in several years, Sai Gon Giai Phong reported on Saturday.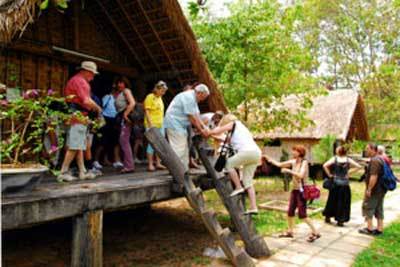 Foreign travellers visit the home of an E De ethnic family
in Lak District, Dak Lak Province.
It quoted Associate Professor Truong Quoc Binh of the Vietnam Art and Culture Institute, a member of the National Culture Heritage Committee, as saying the Central Highlands provinces must work together to preserve all their traditional values and restore their natural treasures to ensure sustainable socio-economic development.
Other experts also said the region needed closer linkages and co-operation among its provinces to revive its tourism sector.
Dr. Le Van Minh of the Institute of Tourism Research and Development said this would play a vital role in exploiting each province's tourism potential. It would help develop diverse, high-quality tourism products, thus enhancing the region's tourism competitiveness, he said.
Vu Van Tu, director of
Lam Dong
Province's Department of Tourism, Trading and Investment Promotion, said the Central Highlands region had great potential to develop eco-tourism.
Each province in the region had unique and special features, therefore, all the provinces needed to co-operate and create a "tourism product chain that has high cultural values," Tu said. Lam Dong has worked with other localities like the coastal south-central region, HCM City and other Central Highlands provinces to boost
Vietnam tourism
, but the linkages we re still not strong enough to fully tap the potential, he added.
The Central Highlands region comprises five provinces: Kon Tum, Gia Lai, Dak Lak, Dak Nong and Lam Dong. These provinces are home to more than 40 ethnic minority communities, making the region a treasure house of cultural diversity, which coupled with its abundant natural attractions, presents great tourism potential.
The region boasts numerous picturesque ponds, lakes and waterfalls, primeval forests and national parks as well as favourable weather all year round. It also has a number of ancient villages where ethnic minority people like K'Ho, E De, Jarai, Bahnar, M'Nong and others reside.
The region's Gong culture has already been recognised by the UNESCO as a world intangible culture heritage.