In famous tourists attractions in Cao Bang, Ban Gioc waterfall tourist area is considered as the fourth largest waterfall in the world. It is also the largest natural waterfall in Southeast Asia.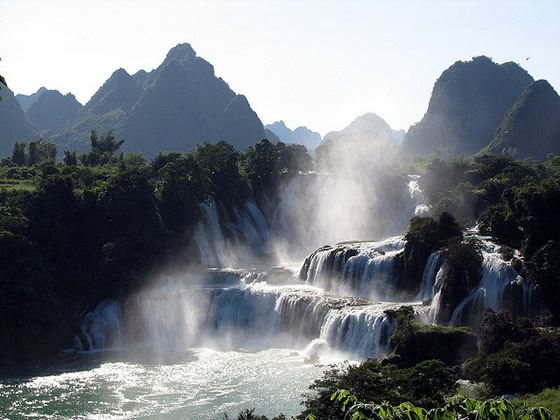 Ban Gioc waterfall
, the most beautiful waterfall in Vietnam, is one of invaluable gift of the nature for Cao Bang. It is located in the border of China and Vietnam in Dam Thuy commune, Trung Khanh district that is 89 kilometers from Cao Bang city.
On the way to go to Ban Gioc from the city center, you can contemplate imposing and charming beauty of rivers, streams and forests.
Ban Gioc waterfall lies on Quay Son river rising from China and flowing through communes in Vietnam such as: Ngoc Khe, Phong Nam, Ngoc Con, Dinh PHong, Chi Vien and Dam Thuy. It is 53 meters in height and 300 meters in width.
In the foot of the waterfall, Quay Son river is flat as a mirror, reflecting the clear and blue sky into water. Visitors can hire a bamboo raft to travel around the foot of the waterfall to contemplate its stunning beauty.
Coming to Ban Gioc, tourists have a chance to see Tay people's houses on stilts.
In order to develop tourism in Ban Gioc, in 2012 December 8
th
, Saigontourist Company began construction of high-class Ban Gioc Resort with an area of 31 hectares. It will include a hotel with 60 rooms, 24 high-ranking villas, restaurants, entertainment and spa area and areas for camping and outdoor activities.
The project is expected to complete in late 2013. The total expenditure is about 170 billions dong.
In 2013 June 15
th
, Cao Bang province People's Committee and Buddhist Sangha of Vietnam began construction of "Phat Tich Truc Lam Ban Gioc pagoda" in Dam Thuy commune. The pagoda is a significant construction to serve people's need of spirituality and religion in Ban Gioc.