Dalat city is located in Lam Dong province, on the Lam Vien Plateau, at an altitude of 1500 m above sea level and the natural area: 393.29 km ². Dalat in the highlands Lang Biang, northern province of Lam Dong, on the north, next to the Dalat district of Luoyang, the eastern and southeastern borders with Don Duong district, west and southwest border with 2 Lam Ha and Duc Trong district.
Da Lat is the locality of residence of the Creek, or all of Lang Biang Plateau, an area of over 400 km ², surrounded by mountain ranges and a row: North and Northwest World Choromui limited by range, Yo Da Myut (1816 m), Northwest-based foot mountain Kae Chu Yang (1921 m), in Lang Son Biang the highest peak is Chu Yang Sinh (1408 m). Eastern foot of the mountains Bi Doup (2278 m) plateau slopes down to Dran. Southeast definitely taught by Proline (1629 m). South and southwest are the mountains Elephant (1754 m) and Yang Soreng surrounded. Because the influence of elevation and pine trees surrounded, Dalat's many features of the temperate domain. Average temperature 18-21 ° C, the highest temperature never exceed 30 ° C and lowest is not below 5 ° C.
To Dalat,
Vietnam guider
will help you not be happy to "pass climbing, wading streams" but also to visit the villas of Bao Dai, or temples and ancient church of the nation. Paris is such a State, Da Lat should ever dream dreams and poetry through the cold highlands night, morning fog and strip pine forests around the cities.
Trúc Lâm Zen Monastery
Truc Lam Zen Monastery is the largest in Vietnam, inaugurated in 1994, is one of the largest Buddhist building after 1975. Wat is located next to Tuyen Lam lake on a large land area 25 ha. Truc Lam is currently connected to the city center of Da Lat (Robin Hill) with the cable system, transporting visitors back to Zen and Tuyen Lam ve.Ho 2005 the government of Lam Dong to build a major tourist area, attracting approximately about 30 investors.
Linh Phuoc Pagoda is also called Wat Chai Ve because the airport is 49 m long dragon made of 12,000 bottle, porcelain. Wat is a unique architectural mosaic connoisseurs of Dalat. Pagoda is located at Camp Mat, a town center 10 km to the east.
Linh Son Pagoda was built from 1938 to 1940 due to the contribution of Buddhists, especially Mr. Vo Dinh and Nguyen Van Tien Dung, who received most of the bidding architecture period.
Thien Vuong Co Sat Pagoda was built starting in 1958, the center of Da Lat is about 5 km, is located on a Hill. The main temple has three power 4 m high Buddha visiting from Hong Kong, behind the temple, on the Hill Thich Ca Buddha statue is 20 meters high Radio Chua also called Chua Tau, the system Hue Nghiem Buddhist sects in China.
Linh Phong Pagoda is located in Hoang Hoa Tham, built in 1944. In temples, there should nun temple also known as unused Women.
Linh Quang Pagoda, the family's first throne of
Da Lat
, located on Hai Ba Trung Thuong Thich Thursday by creating in 1931.
Church
Church district court Dalat often referred to as Church Chicken because the chickens on the roof, a symbol of St. Peter Coffee. Church started construction in 1931, to 1942 is complete. The church is one of the typical architectural style and ancient Dalat.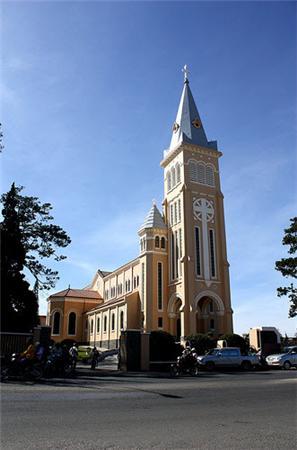 Churches Chicken
In addition, Da Lat also has several churches, such as Domaine de Marie Church with a beautiful French architecture, the poet also has a beautiful flower garden with two trees on the 75-year-old Tung, church architecture Student Travel Vietnam with a traditional curved roof and dragon. Cam Ly church was built from 1960 to 1968-style home empty Highlands.
Mansion
Da Lat has many beautiful palaces and villas as
Nutrition I: worked as the national head office of Bao Dai, now the company K'Gim - Korean investment into the hotel, high-class entertainment.
Nutrition II: each villa resort is the full Decoux, and then by Ngo Dinh Diem and Nguyen Cao Ky. After 1975 the guest house of
Lam Dong
Province People's Committee.
Dinh III: also known as Bao Dai palace, built in 1933, located in the Vietnamese roads Wang Zhao, near Institute of vaccines and biological products Dalat. Since 1949, Da Lat is the capital of the imperial dynasty diamond territory, King Bao Dai lived with family and work here. We still maintained the status quo Left 25 rooms and some kind of his last Nguyen Dynasty kings, queens Nam Phuong, the prince and princess. Flower garden before special power meticulous care.
Villa Long My District of Nguyen Huu Hao (father of Nam Phuong Nguyen Huu Thi Lan - wife of King Bao Dai).
Villa Nam term governor, now the headquarters of Lam Dong Province People's Committee.
Hang Nga Villa.
Landscape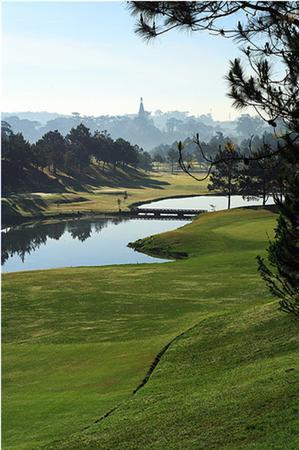 Hill Cu
Cu hills between downtown Dalat is located next to Xuan Huong Lake is so often mentioned as a place bonded together - many people believe that Da Lat will be less if the lack of fine hill and Cu Xuan Huong Lake . In 1942, the design planning schemes of Dalat, architects Lagisquet Hill was zoned as an area Cu impregnable to create a clear vision system for Dalat. Later, a British architect who designed the conversion of Cu 9 hole golf course is quite famous Southeast Asia and the Cu current hill has been upgraded into 18-hole golf course. Hill is not clear Cu name ever since, and why is called "Hill Cu" two-pronged justification is there, some have argued that the gentle backdrop of hills here when viewed from far back as the ceiling panels of the hardworking should have been huge for von-called "Hill Cu"; also move the office to explain the name "Hill Cu" because this is a place where golf also known as the hardworking type.
Xuân Hương Lake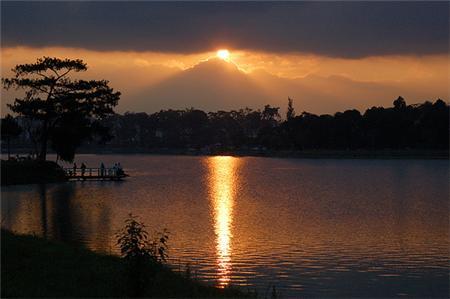 Sunshine on Xuan Huong Lake
Xuan Huong Lake in the heart of Dalat and next hill Cu. Ho is in fact artificial lake was built in 1919 by initiative of Cunhac. To form the lake, people sure beats covering a stream running through valleys, lakes have large surface area of 25 ha, 5.1 km long perimeter. Around the lake many unique architectural value of art, aesthetic built the Palace hotel, sports fields Lam Vien, motels Union, Restaurant Thanh Thuy, Thuy Ta ... Previously called Grand Lac lake (largest lake). Early morning fog on the very beautiful and romantic.
Lakes and streams Gold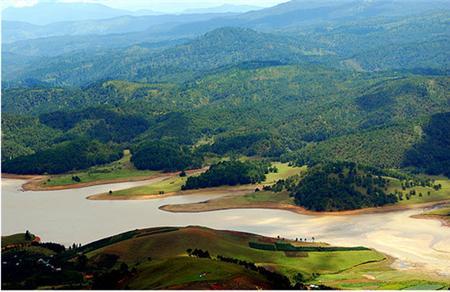 Lakes and streams Gold
Suoi Vang Lake is the largest freshwater lake in Da Lat, providing water for the city over the spillway water supply company Dalat. Golden Valley Springs is famous tourist destination with flower gardens and pine forests.
Dalat Flower Park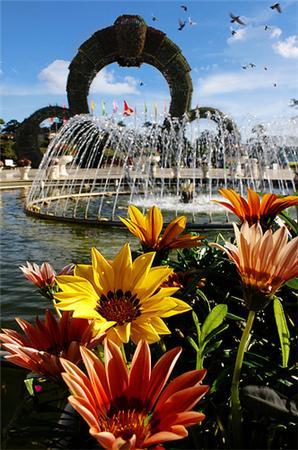 Parks vibrant flowers in Da Lat
Dalat Flower Park is situated around the north shore of Xuan Huong Lake, the valley of the Hill Cu. Formerly Da Lat Flower Park called Bich, now an area of the park was extended to 7000 flowers m², with a layout not get too stuffy, the impression came to visit. The flowers and ornamental famous Dalat grown trimmed thoughtful care, scene fresh, rich seasons. Usually hold annual flower festival and a message to call and attract investors to the domestic and foreign development of Da Lat and its suburbs into the center of production, export and flower of the country Southeast Asia.
Peak LangBiang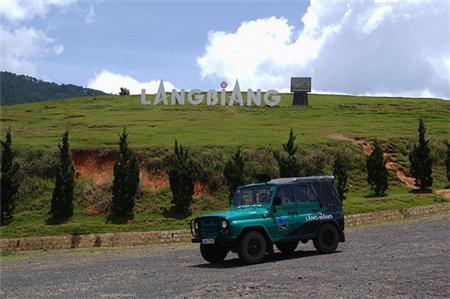 Langbiang
Located at an altitude of 2169 m above sea level, contained in his hidden Langbiang legend of a flame, beyond the feudal ceremony of education. Langbiang also such as "the roof" of the Lam Vien Plateau, rooftops, Da Lat, is to select ideal for visitors to enjoy the feeling bồng disease, which include travelers thirst for conquest, discover the real amazing and fun adventure agreement evidences the ball.
Than Thở Lake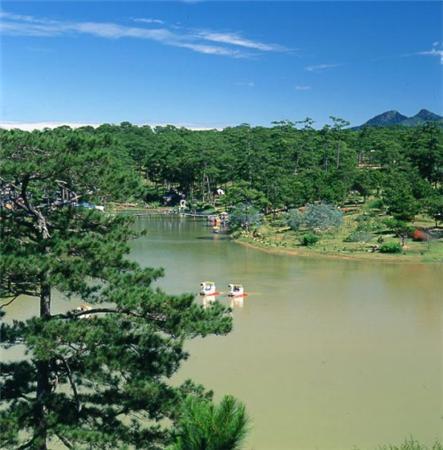 Than Tho Lake
Is a natural lake in the city of Da Lat (Lam Dong province) and also a tourist destination of this city. Journal Indochine (Indochina) 28 out March 13 1941 Than Tho Lake photo chosen as the cover image. Previously Than Tho lake is a pond called Tono Pang line. In 1917, the French built dam reservoirs provide water for the city of Da Lat.
The French named the lake is Lac des Soupirs meaning Monday (whisper), but when translated into Vietnamese Left progress in the sense first: Than Tho Lake.
Cam Ly Waterfall
Cam Ly waterfall
Located near the city center of Da Lat, the Peace just 2.3 km to the east - south. Waterfalls are not nice and often less water in the dry season but thanks to the location near the city center so visitors have visited.
Prenn waterfall
Take a look gentle, graceful as a screen gently pour water from a height of 10 m down a small lake, full of flowers and leaves around the hill through a micro-vu. Prenn Pass is located in the center of Da Lat Prenn about 10 km, located along Highway 20.
To the waterfall, visitors must go through a short bridge across the stream was north embankment with concrete barriers to prevent erosion. The road to a beautiful waterfall with stone steps hug the hillsides are arranged logically; Guests will see a curtain of water let her down from a height of 10 meters near the small valley has been edited into the flower garden from here there are many beautiful way to vacuum up the hills around clear ventilation.
Pongour waterfall: Waterfall also known as a seven-storey waterfalls in Duc Trong district, Lam Dong, Da Lat located 50 km south.
Pongour waterfall
Waterfalls pour from a height of nearly 40 meters, spread over 100 meters wide, stone stairs system seven floors. Surrounding forests is an area of 2.5 hectares with vegetation diversity and abundance.
Valley of Love
As one of the most romantic landscapes in Dalat, the city center is about 6 km to the northeast. That is where Da Thien Dam (built in 1972) gathers the small stream flowing from the high hills, a lake (Lake Da Thien) in the extractor winding valley through green shaded. Initially, the French call this place the Vallée d'Amour (Love Valley) after it was renamed the Valley of Peace, and in 1953 returned to the Valley of Love.
Valley of Love
Valley of Love and Beauty smoking by rolling hills and through deep valley. In 1972, the dams were built across the valley extractor formed of Da Thien, augment the seductive landscape generally, and appear two other names besides beating the Valley of Love 3 Da Thien Lake and 3.
Guests can follow the path men or climb the percentage level, go through the gate with brightly colored flowers up to Vong Canh hill. From there, Valley of Love showing on the beautiful eyes a picture vivid title.
It is an ideal destination for romantic souls and those who love farming highlands as well as temperate climate.