The road from Cam Rahn airport snakes along the coast, past fleets of blue-hulled fishing boats and the beachfront hotels of Nha Trang.
North lies
Da Nang
and, ultimately,
Hanoi
, capital of the Republic of Vietnam, but an hour after leaving the airport, a signpost reading An Lam Villas signals a side road leading off Highway One.
A speedboat lies alongside a nearby jetty. We climb aboard, our suitcases follow and the driver guns the engine and sends the boat skimming across Ninh Van Bay to An Lam Villas, the latest resort to lay claim to a share of the tourist dollars flooding
Vietnam
.
Accessible only by sea, An Lam Villas is part of the Epikurean stable of up-market properties made up of 35 individual villas, most of which front a lagoon and in which the accent is on low-key luxury.
The villas are large, the walls of the bedroom and living areas sliding back to give views across the private plunge pool and to the lagoon and the beach and bay beyond.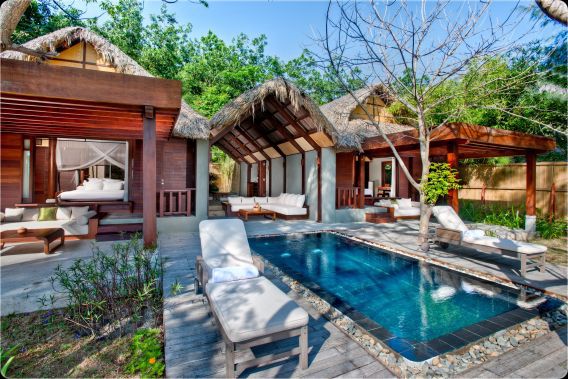 An open-air shower and sunken stone bath tub open off the central area which is fenced by bamboo. At the lagoon edge, day beds stretch beneath a canopy for languid lounging of which you tend to do quite a bit. A stand of pine trees separates the villa and the lagoon, the soft swish of the sea breeze as it moves gently through the branches a potent lullaby. Privacy is absolute and if your concept of a holiday includes hanging off the bar and making several dozen new best friends, then An Lam Villas is not for you.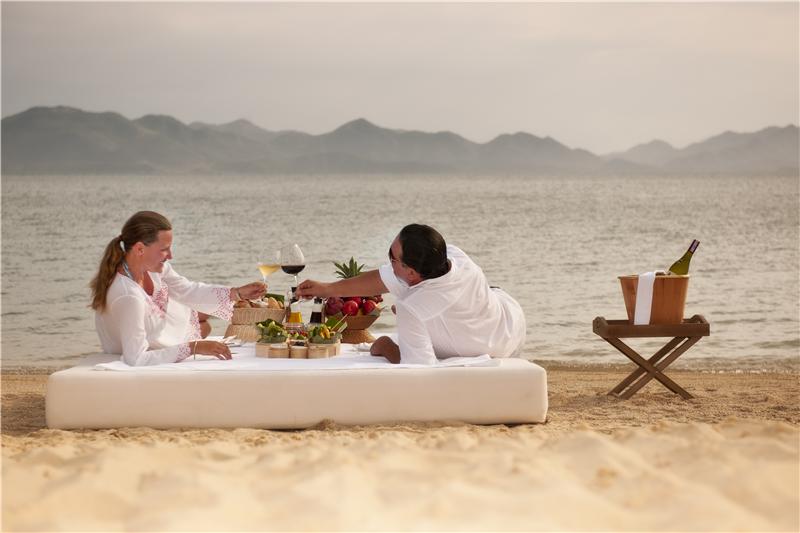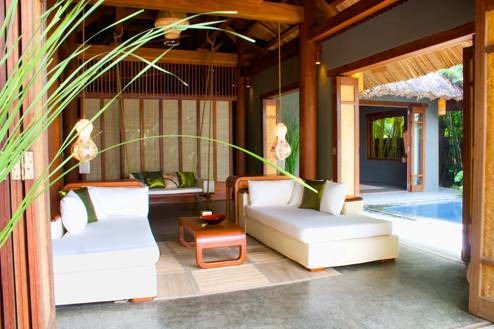 On check-in, guests are asked to indicate the level of attention they require from their personal butler. Do they wish him to attend them at specific times, attend only when called or be constantly at hand. We place Phong, a small, gentle man whose home is in Nha Trang, on standby. He offers to unpack my luggage and I assure him I am capable of doing it myself. Like most Australians, I feel a vague sense of unease when waited upon by a personal servant.
I ask about the bicycles I have seen parked outside villas and Phong produces one within minutes. I pedal along a sandy, shaded road past well-tended herb gardens and the bamboo fencing of my fellow guests, the road rising and then turning down to the beach, the bar, restaurant and infinity swimming pool.
Empty hammocks swing in the afternoon breeze and bodies are draped across deck chairs strung out along the white sand curve of the bay. You can do as little or as much as you like. Recommended activities include fishing, bicycle tours of Nha Trang and surrounds, boating excursions and cooking classes.
I meet the executive chef at dinner that night and the accent is unmistakable. Walk into the kitchen of almost any significant resort or hotel in Asia and you will find an Australian at the burners.
An Lam is no exception and chef Briony Crowder is a Sydney girl who has worked in London, Amsterdam, Istanbul and Thailand and was working in Melbourne when she heard about the position of executive chef with Epikurean.
She's helping train the local chefs and says there are at least two in her team who will become professional, international chefs.
"The challenge is to keep the menus interesting," she says. "We get long-stay guests and we mix the a la carte menu between Western and Vietnamese dishes. My herb garden is coming along wonderfully. Just about anything grows here except some of the European herbs such as thyme." Phong takes us hiking to one of the two waterfalls on the resort from which it sources its fresh water.
We climb for 15 minutes, emerging on a rocky outcrop with sweeping views of the bay. On the rocks, two deck chairs sit beside a pool of spring water. "For picnics," he explains, pointing to the chairs.
There are no jet skis or parasailers at An Lam, just the steady putt-a-putt of the occasional fishing boat as its owner heads out to tend the lobster farms that dot the surrounding waters.
We stayed for three nights and two days, indolently sleeping and reading in the cool retreat of the villa or swimming and lolling on the beach.
In the mornings I stood beneath the open-air shower head, sun shining from a crystal blue sky, warm water cascading down with the only sound the gentle splatter of the shower on the stone floor.
General manager TJ Grundl-Hong, "TJ" to all, owns a nightclub in Ho Chi Minh and operates another Epikurean property on the Mekong. He has run properties throughout Europe and Asia and is as charming as he is knowledgeable. He recommends a restaurant when we return to Ho Chi Minh. "It's the best food in Saigon and it's cheap," he says. "I'll make a reservation for you."
After three days we leave the bliss of An Lam Villas and return to
Ho Chi Minh
which is gradually reverting in popular usage back to its former name of Saigon. As we depart we pass a couple which TJ says has booked a villa for 40 days. As the speed boat curls away from the jetty and heads back to Nha Trang, I try to imagine 40 days cloaked in the tranquillity of Ninh Van Bay.
The mind can only encompass so much relaxation. That night we catch a cab to the Cuc Gach Quan restaurant (10 Dang Tat, Ward Tan Dinh, HCMC District 3. Ph: +84 83 848 0144).
It's in an old colonial house and overflowing with people and my waiter tells me Angelina Jolie and Brad Pitt were there a few weeks before. The food is some of the best I have ever eaten and the bill, with drinks, comes to about $70.